New North Wales centre supporting people living with sensory loss, set to launch.
Press release date 14th of June 2018
New Sensory Loss Centre will bring together local and national charities.

Local campaigner thrilled to see arrival of Sensory Loss Centre.

Young TV star to visit the centre as she begins here youth ambassador role.
On the 29th of June 2018, during DeafBlind Awareness week, a new Sensory Loss Centre will officially open to the public. The role of the Centre will be tobring organisations together, to achieve great service delivery and awareness.Chief Executive of the The Centre of Sign Sight Sound Sarah Mathews, who isspearheading the launch said
"What a privilege it is to be the Chief Executive forthe Centre of Sign-Sight-Sound. The journey so far with COS has of coursecome with challenges, but it has been extremely fulfilling and we have veryexciting times ahead. I am so proud of this partnership of organisations whohave come together to raise awareness and provide support for the people of North Wales through the new Sensory Loss Centre. I would like to take this opportunity to invite you all to celebrate our grand opening of the Centre and embark on this amazing journey with us, to promote a world where sensory lossdoes not limit, preclude or stigmatise people from achieving their full unique potential".
Other charities involved include Action on Hearing Loss, Guide Dogs, TPAS, RNIB and the art therapist Sian Hutchinson. These partners will bring a wealthof experience and specialist insight from their respective fields. North Wales Deaf Rights campaigner Rosemary Thompson said of the Centre's arrival;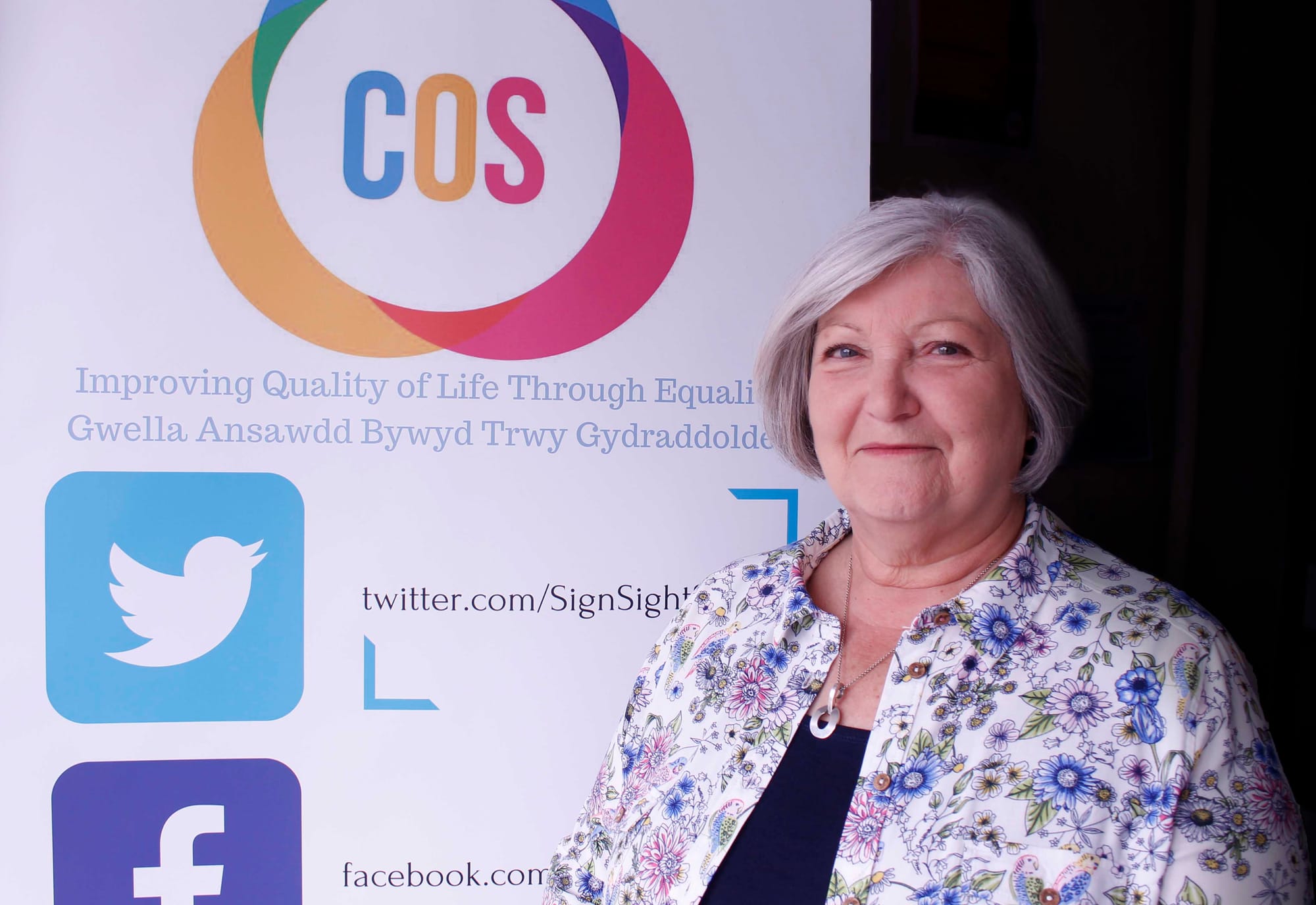 "For many years I have been campaigning to have a centre in the localarea for the Deaf community to meet, socialise and have support. To have thecentre open to those with other sensory loss's and to bring the communitytogether, with the help of the other organisations is amazing!"
This announcement has come at a time of increased publicity around issues faced by those with sensory loss. The Deaf community in particular has had a huge surge in mainstream national coverage. Ad breaks in between the most popular programmes on TV has seen the star of the Oscar winning 'Silent Child' Maisie Sly, fill our homes with smiles and perhaps fish fingers.
On the day the public will be joined by MP's and Am's, local service providersand the stars for programmes such as Cbeebies Melody and S4C's Dwylo'r Emfys. Two series that highlight visual impairment and communication, not as a barrier, but in a world we can all enjoy. Ceri Bostock who played Heulwen in Dwylo'r Enfys said
"I think it's great thatthis service will now be available in North Wales. Communication is such an important aspect in feeling included, whether we do it with our mouths or withour hands. The Centre will become an important advocate of that."
Angharad Rhodes who plays Melody in the hit CBeebies series of the samename, which focuses on visual loss said;
"To have a centre like this is reallyimportant and amazing, everyone being treated the same no matter what. Wecan all come together to help each other and hope that everyone in thecommunity understands that underneath we are all the same. We all can andshould have new experiences and learn from each other to make the world abetter place for everyone".
Angharad's mother Lynda highlighted that;
"We as a family feel that theconfidence and understanding that will come to those that attend this Centre is beyond words. To see the changes that this work has made to our children isamazing."

Stephanie Woodcock of COS said;
"We hope the day will show people whatservices will be available right across North Wales and beyond, as well as havingthat carnival, community atmosphere, with the activities and games."
Any one wanting more information is to contact The Centre of Sign Sight Soundon 01492 530013 or email info@sighnsightsound.org.ukAngharad's video can be watched here: https://www.facebook.com/SignSightSound/videos/2112454122345507/